Cricket facts:- In this article, we gonna tell you some of the Top interesting and unknown facts about cricket.
We all have heard a lot of interesting stories about Cricket, cricketers and their lives.
And also know some of the facts related to their Cricket career and life. And Some are very interesting while some leave us in shock.
Here we have some of the interesting and unknown facts about Cricket and cricketers.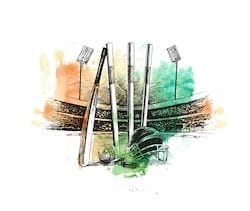 1] Shahid Afridi's fastest 100
We all know that Shahid Afridi set the record for the longest ODI for the longest time before overtaking Corey Anderson and later AB de Villiers.
Afridi scored a century in 37 balls against Sri Lanka while Anderson scored 36 and De Villiers scored 31 runs respectively.
This is one of the strange and amazing facts of Cricket history. That the powerhouse right batsman scored the fastest century from the bat he has taken from Little Master' The Legend Sachin Tendulkar.
2] Abbas Ali Baig's Kiss Story
We all have seen fans running on the field and touching and hugging their favorite players.
But the first such incident with the Indian cricketer took place in 1960 at Australia's Brisbane Stadium.
Abbas Ali Baig was shocked by the woman when a woman entered the arena and kissed Abbas Ali during India's Test match against Australia. She kissed Abass on his cheek.
This is one of the special facts that lesser people know and that's why we have included this in our Cricket facts article
3] Don Bradman exits with HIT WICKET
Don Bradman of Australia is regarded as one of the best cricketers in the world.
In fact, he missed out on an average of 100 runs in Tests after being dismissed for the Duck against England in the last match of his career.
But very few people know that Bradman was once hit wicket and his wicket was taken by Lala Amarnath during the Brisbane Test in 1948.
4] Indian Team has won World Cup in three different formats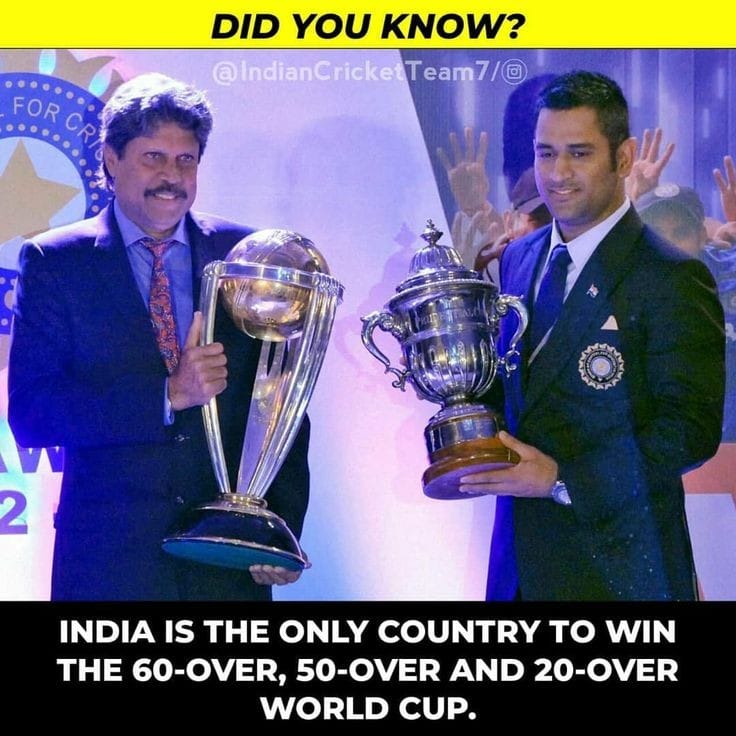 First of all tell us, Did you know that initially, ODIs were 60 overs?
In fact, the 1983 Cricket World Cup was also played in the same format.
India won the World Cup in 1983, then the World T20 in 2007 and the ICC World Cup in 2011 (50 overs).
5] Alec Stewart's birth date and test tally
Former England wicketkeeper-batsman Alec Stewart was born on 8-4-63 and interestingly, his Test runs were 8463. This is a unique Cricket facts which few of them know.
6] Final loss to England
England is the only team to lose the 60-over final (1979 World Cup vs West Indies);
50–0 final (1992 World Cup vs Pakistan);
and a 20 overs final against India in the year 2013.
7] Experiment with the batting order
We have often seen that team management usually twists their batting line up to improve results.
Lance Kluzner, Abdul Razzaq, Shoaib Malik, and Hasan Tillakaratne are the four batsmen who have batted in 10 different positions for their respective sides.
This is one of the shocking and amazing facts of Cricket history.
8] Jack Hobbs Hundreds
Will, you believed that someone scored 199 [100's] ever?
Yes, its true, Sir Jack Hobbs has scored 199 centuries during his first-class career. This remains one of the great and amazing facts in Cricket history.
9] How many runs conceded in the expensive over in Cricket history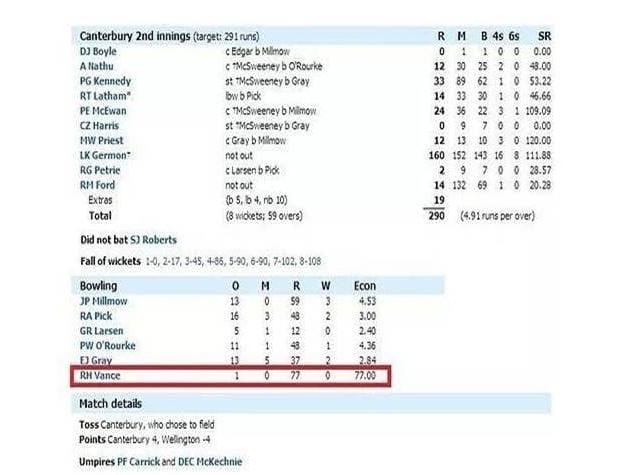 Have you seen Yuvraj Singh beating Stuart Broad for 36 runs in an over?
Have you seen Prashant Parameswaran giving 37 runs in an over?
Do you think this is more expensive? If yes, you are wrong.
The highest runs scored in an over are 77. Yes, you read it correctly Cricket at its best, and its facts and stats also at their best.
10] Women's World Cup
The first men's World Cup was held in 1975 in which the West Indies won the final by defeating Australia.
But do you know that the women's World Cup happened before the men's competition?
The first Women's World Cup was played in 1973. England won the competition defeating Australia.
11] Cricket in Olympics
Cricket has once been a part of the Olympics in the 1990 edition in Athens.
12] Kapil Dev's 175 not out
The great batsman n a former Indian cap. Legen Kapil Sir made 175* vs Zimbabwe during a World Cup match in the year 1983 where India also wins the cup.
India struggled on 17/5 when the right-hander played a crucial inning and saved his side.
But there is no footage of the match as the broadcaster was on strike that day.
13] Quit Miscellaneous World Cup
We have often heard that South Africa is under pressure and suffocated at an important stage, but in the 2003 World Cup, the story was a bit different.
Playing at home, South Africa needed to score one run off the last ball after modifying the target to be chase;
But Mark Boucher had no clue of this ball and the Proteas were eliminated from the World Cup.
15] Sachin Tendulkar is playing for Pakistan
Can you imagine it?
Well, it happened at Brabourne Stadium in Mumbai when Sachin fielding for Pakistan in a practice match in 1987.
16] Bishan Singh Bedi decided to stop a match
During the one-day match between India and Pakistan in 1978, the then captain Bishan Singh Bedi decided to seize the match in protest of four bouncers on the trophy by Sarfraz Nawaz.
The umpire did not call any of the comprehensive and there were no rules for bowling just limited bouncers in an over.
17] 10-Day Test Match
West Indies has the record of chasing the highest target in Test Cricket history.
But the record could go to England in 1939.
During a Test between South Africa and England, the English team needed to chase down 696. The match went to 654/5 with England on the 10th day.
The task could have been an easy one for England, but the captain of the ship who was obliged to take them back refused to wait for any further and the match was declared a draw.
18] ICC
The International Cricket Council (ICC) keeps changing the rules.
If you have read the textbooks in Standard Ninth, you would know that the shape and size of bats and balls have also changed over the years.
But this pitch size, which is 22 yards, is the only thing that has not changed from the start.
19] Shocking Wicket Tally
Wilfred Rhodes, who played for Yorkshire, has taken 4204 first-class wickets.
20] 0/0 Announcement/Dec.
In the 1999–2000 season, England and South Africa declared their innings 0–0.
South Africa scored 248 runs in the first innings but rain spoiled the game.
The then captain Nasir Hussain and Hasani Cronje played for the result and England chased down the target of 249 runs in the fourth innings.
So these are the 20 amazing facts regarding Cricket which lesser people know.
That's in this article for more facts regarding Cricket you can visit our website link given next.
All the information in this article has been taken from the web and different sites.